MakerDAO, one of the first and largest DeFi protocols on Ethereum, is raking in millions of dollars. Even as it remains successful, the decentralized money market is under immense pressure from its community.
MakerDAO Makes $2.1 Million
On March 8, MakerDAO said it made $2.1 million in lifetime fees from their MIP65's $500 million short-term bond investment strategy in January 2023.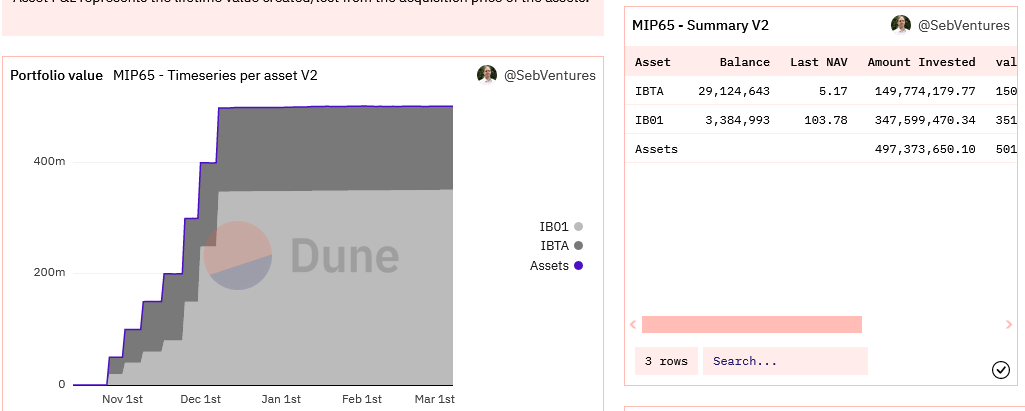 They went on to say this figure represented almost 50% of their annualized revenues. Fees generated were mainly from the yield on DAI, the algorithmic stablecoin issued and managed by MakerDAO.
Under this investment strategy, dubbed MIP65 or Monetalis Clydesdale, approved by the community in 2022, MakerDAO can get exposure to short-term bonds exchange-traded funds (ETFs). 
MakerDAO said the goal is to "onboard a real-world asset (RWA) Maker Vault with a debt ceiling of 500 million DAI that will acquire USDC and invest them in approved bond strategies."
1️⃣ MIP65: Monetalis Clydesdale: Liquid Bond Strategy & Execution

This MIP aims to onboard a real-world asset (RWA) Maker Vault with a debt ceiling of 500 million DAI that will acquire USDC via the PSM and invest them in approved bond strategies.

2/

— Maker (@MakerDAO) October 4, 2022
MKR holders voted to invest specifically in a composition of US Short-Term Treasuries and a small percentage in corporate bonds. MKR is the governance token of MakerDAO.
Since this investment is off-chain, all prices are tracked through an oracle deployed on Polygon, an Ethereum sidechain. All these operations are automated and guided by audited smart contracts. The decision to use smart contracts on Polygon is strategic and intentional. Since the protocol is a DAO, there must be transparency for MKR holders who vote on proposals, including the decision to create an off-chain investment strategy. 
As of March 8, MakerDAO's MIP65 tracker showed that the protocol held $351.4 million of IB01: iShares $ Treasury bond 0-1 year UCITS ETF and $150.6 million of IBTA: iShares $ Treasury bond 1-3 year UCITS ETF. The protocol also bought IB01 in the first week of December 2022 before holding off. They have been gradually buying these ETFs since mid-October 2022.
Considering the success of MIP65, there are plans to increase investment from $500 million DAI to $1.25 billion. The extra $750 million will go "into a 6-month US Treasury ladder strategy with bi-weekly maturities."
MakerDAO is reviewing a proposal to extend its existing US treasury bond investments from $500 million to $1.25 billion. pic.twitter.com/DZj72oTJvP

— Maker (@MakerDAO) March 7, 2023
Borrowing DAI Using MKR Opposed
However, it is a bold initiative by MakerDAO to permit MKR holders to borrow DAI. Critics say this model is similar to the mechanism behind UST, the algorithmic stablecoin by Terra that de-pegged, pulling down LUNA with it. 
Hmm looks a lot like backing $UST with its governance token $LUNA.

Did @stablekwon secretly infiltrate @MakerDAO? https://t.co/3u6NzOMkPK

— Arthur Hayes (@CryptoHayes) February 24, 2023
Some even say implementing this style would mean an exit scam via DAI without giving out control of the protocol, but these comments are rumors as of this writing. 
Feature Image From Canva, Chart From TradingView