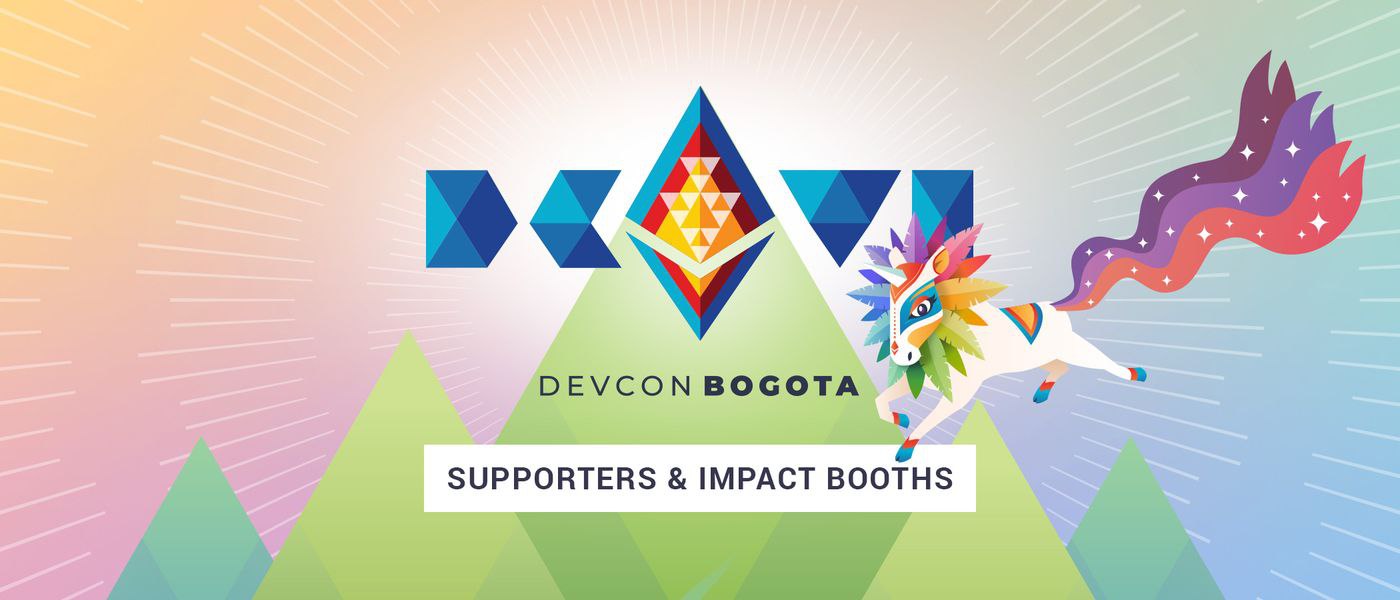 This year's Devcon is special in many ways. We've used the last three years to create a whole new experience based on all that we've seen at past Devcons, and lessons learned while event-planning during the pandemic. Devcon VI involved the community via Community Hubs and Devcon Improvement Proposals (DIPs), features a Public Goods Supporters Program that replaces a traditional sponsorship effort, and will introduce Impact Booths in Bogotá.
Impact Booths
Today, we want to introduce you to our Impact teams.
In past years, booths have only been available to teams with large budgets that are able to pay for sponsorship packages. This year, we reserved booths for teams with high impact on the Ethereum ecosystem, regardless of their budgets.
At Devcon VI, Impact Booths will feature client teams, those improving Ethereum's infrastructure, public goods efforts, roll-up projects, and other selected high-impact projects.
Devcon VI Impact teams are:
Arbitrum, Aztec, Battlezips, BuidlGuild, dApp Learning DAO, Dappnode, Devfolio, Ethereum Name Service (ENS), Ethereum Protocol Fellowship (EPF), Ecosystem Support Program (ESP), EthereumOnArm, ethdotorg, ethstaker, Formal Verification, Gitcoin DAO, ITU Blockchain, L2BEAT, Lodestar, Nethermind, Nimbus, Optimism, Polygon, Prism, Protocol Guild, Remix, Scroll, Sigma Prime, Snake Charmers, Solidity, Sourcify, Starknet, Stereum, and TrueFi.
Devcon Supporters Program
The Devcon Supporters Program recognizes recent contributors to Ethereum-Related Public Goods.
Stakeholders from leading participants across industries have lent their overwhelming support to Ethereum.
We introduced this program in lieu of traditional sponsorships, and those teams that participated deserve special thanks for their contributions to the ETHColombia Quadratic Funding Round @ Devcon, to Gitcoin, CLR.Fund's open grants, and to the Protocol Guild (which supports core Ethereum research and development).
Our team owes a big thank you to those teams and DAOs that joined our first-ever Supporter Program this year without most benefits expected by sponsors. Their support of the Ethereum ecosystem came without things like reserved seating, most branding, speaker slots, named event areas and other traditional sponsor-like benefits. EF will also proudly be contributing toward these efforts.
Today, we are excited to announce the participants of the Devcon Supporter Program.
Announcing Devcon VI Supporters!
Aave, Chainlink (Smartcontract), ConsenSys, Element Finance, EY, Lens, OP Labs PBC, Polygon, Smart Token Labs, Status, and Swarm Foundation
With Thanks To
Ambire, Anoma, Blockdaemon, Hashkey, imToken, Lido, MyEtherWallet, OpenZeppelin, Safe (formerly Gnosis Safe), Santiment, Starkware, Tenderly Technologies Inc., and Thesis
We'd also like to recognize
Arbitrum/Offchain Labs, ChainSafe, Enterprise Ethereum Alliance (EEA), Livepeer, Meson Network, Push Protocol (formerly Ethereum Push Notification Service), Radicle, and Upshot
And all other participating teams
Alpha Virtual, Alt Research, Cartesi, Celo, Digital Finance Group, Evmos, Fenbushi Capital, Fireeyes, Gitcoin DAO, IOSG Ventures, Metis, Orchid, Pokt Network, Rocket Pool, Skale Labs, Spacemesh, Trapesys, W3bCloud
With Gratitude
Please join us in thanking each of these incredible teams for their support of and dedication to the Ethereum ecosystem!
👏👏👏
And with that, we can't wait to see you in Bogotà!
—
Devcon team
🦄