Greetings from Gibraltar, the next leg of my travels which seem to have become more and more focused on the legislative frameworks being created to embrace the range of frontier technologies which have all been given an accelerant in the form of the pandemic. 
The nature of blockchain-based tech is that it is fundamentally borderless and the people who are involved, from the ground up, have completely transferable skills. With these two points in mind what can nation states do to attract companies to locate within their jurisdictions and then – just as importantly – keep them there?
In the three years I have been sharing my acquired knowledge with the City AM / Crypto AM readership, I have witnessed first hand the UK squander the sizable advantages she had. The dithering and woeful lack of clarity has led to a potentially irreversible exodus of the digital nomads and the projects they are working on. I truly believe that this can be turned around but it requires urgent action with a cohesive strategy. To that end I am looking at the creation of the Crypto AM Policy Forum – more news on this as it takes shape.
Crypto at a glance
The crypto markets had a rollercoaster of a day yesterday, with Bitcoin briefly dipping below $30,000 for the first time since January before recovering sharply to around $34,000 at time of writing. The question continues to be whether we've hit bottom or if we will see another push towards $40,000 this week?
The world's largest cryptocurrency yesterday fell to $28,893.62 – its lowest price since January 4 and more than 50 per cent down on April's all-time high of more than $64,000. This essentially erased the gains made in 2021, though it still marks a significant increase on November of last year, when Bitcoin was trading for less than $10,000. It also didn't last long below $30k, bouncing more than 10 per cent in just a few hours. It's currently actually up more than five per cent over the last 24 hours.
Ethereum also fell to levels not seen since March yesterday, hitting a low of $1,700 before rebounding to more than $2,000. It's also up more than three per cent over the last 24 hours. In fact, everything is up over the last 24 hours after yesterday's volatility.
All this turbulence seems to be clearly linked to China's ongoing crackdown on crypto, with many Bitcoin miners now moving their operations overseas. Experts continue to note that this has many long-term positives, and an overreliance on China for hash rate has been cited as a negative in the past so it makes sense that this is actually a positive development. The general good news we've seen recently – from El Salvador to bullish investor sentiment – remains unchanged, and the long term goal is the same. Crypto is the foundation of a fairer financial future – short term noise is a distraction. What's important is making sure we are all in a position to benefit when the dust settles.
Would you like to help spread the adoption and education of Bitcoin in the UK and even stack some stats while you're doing it? Well, now you can!
The Bitcoin Pioneers community, backed by Barry Silbert's Digital Currency Group, was created to introduce Bitcoin to a mainstream audience in a meaningful way and now has members right across the UK.
We share tips, stories and ideas on how to encourage others to try Bitcoin for the first time. And, thanks to support from Luno, each Pioneer gets £500 of Bitcoin a month to share with beginners, helping them get started.
So, if you're passionate about Bitcoin, why not join today? Click here to find out more!
For those of you who missed the Crypto AM DeFi & Digital Inclusion online summit – you can now watch the event in two parts via YouTube:
Part one…
Part two…
All feedback on Crypto AM Daily in association with Luno is welcome via email to James.Bowater@cityam.com ??
In the markets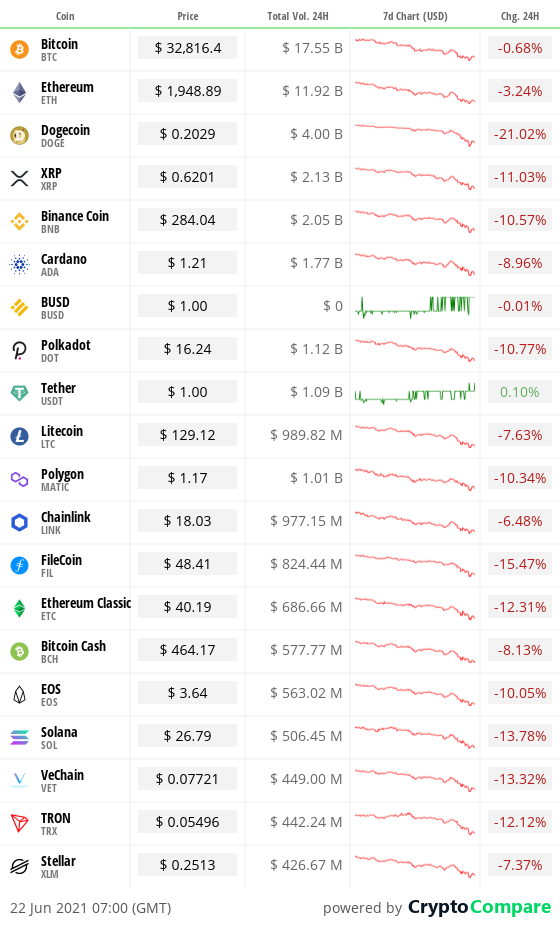 The Bitcoin economy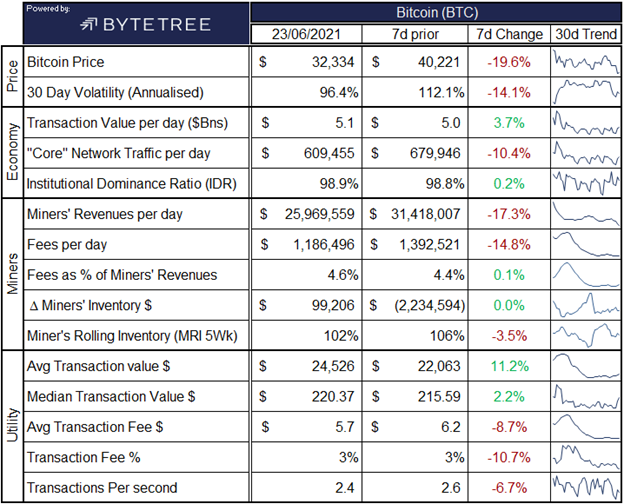 *Definitions and insights can be found at https://bytetree.com/insights/
Total crypto market cap
The total capitalisation of the entire cryptocurrency market at time of writing is currently $1,362,454,635,801, down from $1,317,456,815,324 yesterday.
What Bitcoin did yesterday
We closed yesterday, June 22 2021, at a price of $32,505.66, up from $31,676.69 the day before.
The daily high yesterday was $33,292.45 and the daily low was $28,893.62.
This time last year, the price of Bitcoin closed the day at $9,648.72. In 2019, it closed at $10,701.69.
Bitcoin market capitalisation
Bitcoin's market capitalisation at time of writing is $635.78 billion today, up from $612.81 billion. To put it into context, the market cap of gold is $11.321 trillion and Berkshire Hathaway is $635.79 billion.
Bitcoin volume
The total spot trading volume reported by all exchanges over the last 24 hours was $64,310,539,937, up from $51,925,603,108 yesterday. High volumes can indicate that a significant price movement has stronger support and is more likely to be sustained.
Volatility
The price volatility of Bitcoin over the last 30 days is 74.69%.
Bitcoin's market dominance
Bitcoin's market dominance today is 47.21, up from 47.05 yesterday, Its lowest ever recorded dominance was 37.09 on January 8 2018.
Relative Strength Index (RSI)
The daily RSI is currently 41.88, up from 38.92 yesterday. Values of 70 or above indicate that an asset is becoming overbought and may be primed for a trend reversal or experience a correction in price – an RSI reading of 30 or below indicates an oversold or undervalued condition.
Convince your Nan: Soundbite of the day
"It's BETTER than gold. No worries about storing it. Easy to transfer. Easy to trade. Easy to convert. Doesn't require an intermediary. Can be fractionalized."

– Mark Cuban, American celebrity
What they said yesterday
The mooch gets it…
Eerie…
Bitcoin fixed this…
Crypto AM Editor picks
Anonymous say video message to Elon Musk over Bitcoin meddling isn't theirs
Bitcoin investors are growing weary of Elon Musk's tiresome tweets
Google slowly opening its doors to cryptocurrency advertising
Cardano bridges the gap to China by teaming up with Nervos Blockchain
Crypto AM: Longer Reads
City AM Markets: What is Decentralised Finance (DeFi) by Aave
Crypto AM: Conversation with James Bowater
Crypto AM: Market View in association with Ziglu
Crypto AM: Technically Speaking
Crypto AM: A Trader's View with TMG
Crypto AM: Mixing in the Metaverse with Dr Chris Kacher
Crypto AM: Talking Legal
Crypto AM: Spotlight
Crypto AM: Founders Series
Crypto AM: Industry Voices
Crypto AM: Tiptoe through the Crypto with Monty Munford
Crypto AM: Definitively DeFi
Crypto AM Parliamentary Special
Part one of two – April 2021
Part two of two – April 2021
Five-part series – March 2021
Part one…
Part two…
Part three…
Part four…
Part five…
Crypto AM Events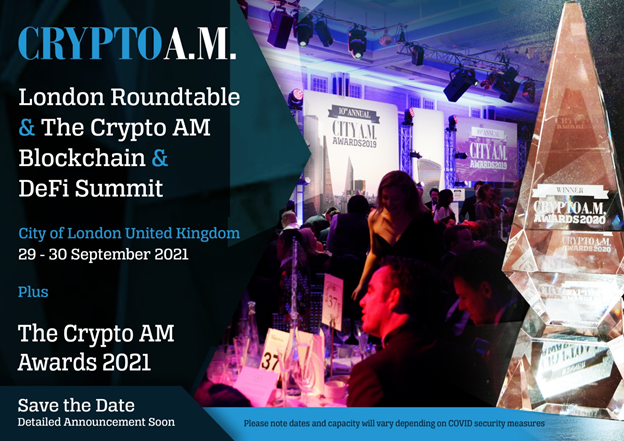 Cautionary Notes
It's definitely tempting to get swept up in the excitement, but please heed these words of caution: Do your own research, only invest what you can afford, and make good decisions. The indicators contained in this article will hopefully help in this. Remember though, the content of this article is for information purposes only and is not investment advice or any form of recommendation or invitation. City AM, Crypto AM and Luno always advise you to obtain your own independent financial advice before investing or trading in cryptocurrency.
All information is correct as of 08:30am GMT.